POLYPROPYLENE FIBER:
1. ISO9001 certificate
2. Exporting for 12 years
3. Have customers in Asia, European, American, Australia, etc...
4. High reputation in China
CHARACTERISTICS / CHEMISTRY:
With polypropylene as its raw material, this fiber is produced by special technology. The products have net-like structure with many fiber monofilaments. When the fiber is put into the concrete,the horizontal structure in fiber monofilament can be destroyed in the course of stirring owing to friction and rubbing ,and the fiber monofilament or net-like structure will fully stretch,thus the concrete is reinforced by a great number of polypropylene fibers.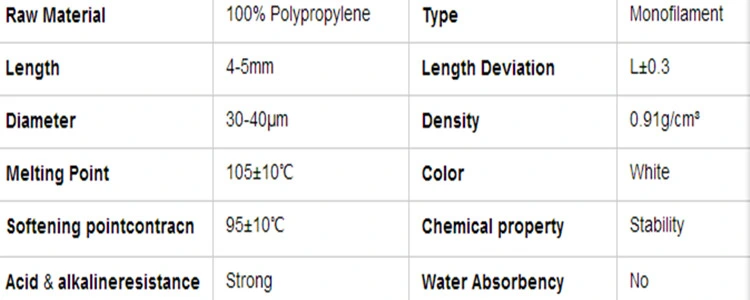 PRODUCT PERFORMANCE:

(1)A low melting point, moisture-free, additive residues.
(2)Tensile, impact resistance, improve overall strength.
(3)A hydrophobic, exhaust, anti-cracking, anti-burst.
(4)Shortening oven cycle, simplifying the process of heating and prolong furnace life.

APPLICATION:
Projects like concrete road, bridge, airport road and factory floor which strictly require cracking resistance
The walls of tunnels, mines, roofs and reservoir projects with special construction
River courses and dams ,etc
Military defense works, dock banks and piers,etc